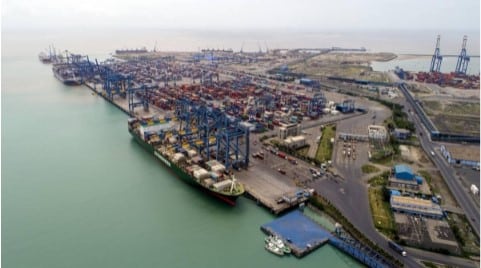 Adani and Foresight among companies boosting LNG use in India's maritime industry
Adani Group's Goa project witnesses use of spray for reducing coal dust emissions. Similarly, the group has pledged to offer a 50 per cent discount on charges to LNG-fuelled ships at Mundra. Similar steps towards sustainability are also being taken by Foresight Group
As India seeks to cut emissions under its green ports plan, several private players in the maritime industry have been endeavouring towards boosting the same. This is, in fact, the need of the hour because shipping sector contributes to almost 3 per cent of global greenhouse gas emissions. 
Incentivising the use of renewable fuels, the Adani Group has recently pledged to offer a 50 per cent discount on charges to LNG-fuelled ships at Mundra, the largest commercial port in India. APSEZ, a key subsidiary of the group, on the other hand, is the largest private port operator in the country. While Mundra and Krishnapatnam ports are some of the well-known port projects by the Adani Group, Goa's MPT, Kattupalli Port in Chennai, Ennore terminal in Tamil Nadu are also among the ports where it holds stakes. 
A study led by Thinkstep, a Germany-based company, in 2019, revealed that compared to other marine fuels, LNG can lower ships' emissions of sulphur oxides to almost zero. In addition to this, it can reduce emissions of nitrogen oxides, particulate matter and greenhouse gases by up to 95 per cent, 99 per cent and 21 per cent, respectively. 
These figures definitely underscore how laudable the initiatives by companies like the Adani Group are. According to a notice issued by APSEZ, the 50 per cent discount will be applied to port dues, pilotage and berth hire charges. It will also apply to vessels that have dual fuel engines that use LNG as a primary fuel. In addition to this, the Adani project Goa also witnesses use of spray to cut back coal dust emissions. All of these are part of the group's endeavours towards becoming the first global carbon-neutral port company by 2025.
With the same spirit as the Adani Group, London-based Foresight Group, has been eyeing Shipping Corporation of India, to make it a leading LNG carrier in the world. Ravi Mehrotra, chairman and founder of the Group said that India will have to foray into the LNG route at least for the next 25 years to meet its climate goals. Thus, his vision for SCI includes ownership of around 100 1,49,000 cubic metre size LNG carriers, which he says the country would need. 
Natural gas makes up for around 6.2 per cent of India's energy consumption. The government is seeking to increase its share to 15 per cent by 2030 and reduce dependence on polluting coal and other non-renewable fuels. The target will only be achieved if companies from all walks of life strive for the same, and Adani and Foresight Group are among those that are treading the right path.